Having trouble with Mask-ne? Learn how to prevent or control acne flair-ups in the age of masking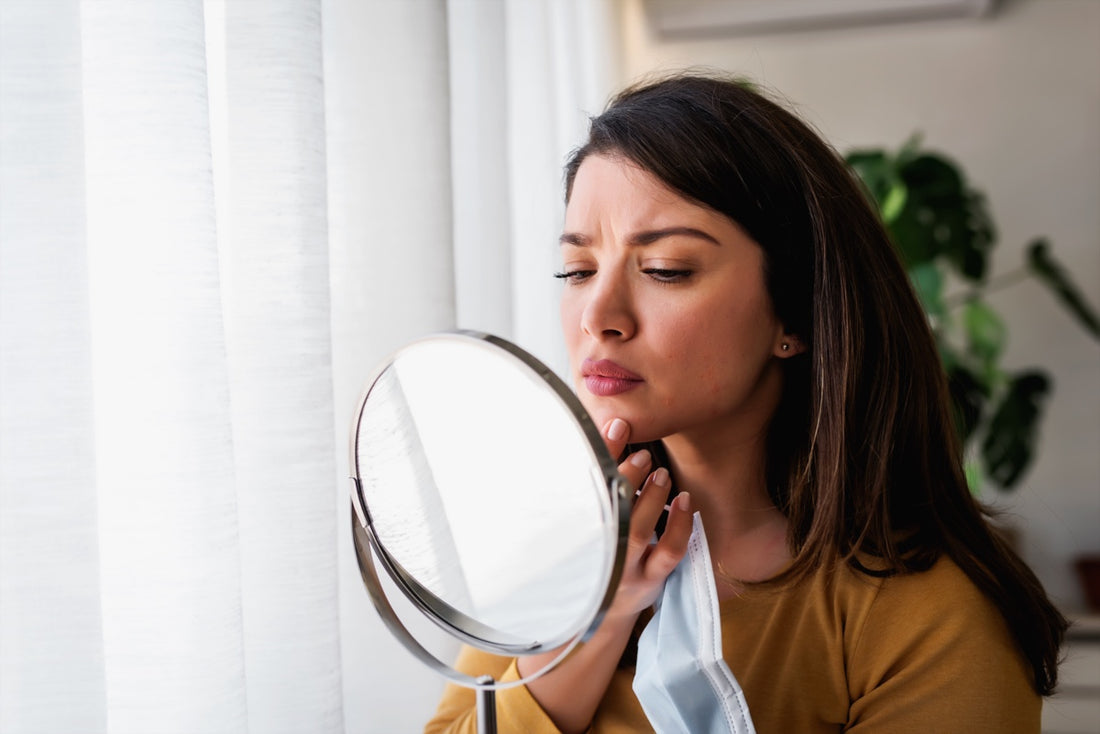 Our new normal has been wearing masks to prevent the spread of Covid 19. This is a good thing and definitely helps save lives! But a very new and real reality of this is that many of us are getting acne type breakouts around the areas of where the mask lays on our skin. While we are often able to hide these acne lesions behind our masks, there are still zoom and facetime meetings. And as more of us get covid vaccines, we will be showing our bare face off to the world. It would be nice to do this with clear skin!
Acne starts when pores in the skin get clogged from our own natural oils and impurities on our skin. This shows up in the form of blackheads or white heads. It can worsen if bacteria develop in these clogged pores and cause pimples or deeper cystic or inflammatory acne.
Masks can trigger acne outbreaks due to friction and closing off and covering part of the face and then our breath, sweat and just talking can create a more humid environment in this area of the skin. This can affect all of us ~ kids, teens, adults and seniors.
So how do we avoid this?
A regular cleansing regimen is important to keep skin clear!
Cleanse skin twice daily with Skin Sutra facial cleanser.
Use Skin Sutra Salicylic acid cleansing pads to clean skin every night. Salicylic Acid is a beta hydroxy acid that helps unclog pores and remove impurities trapped there and in turn reduce acne lesions. It works particularly well on blackheads and whiteheads. It also functions as an exfoliater and helps remove debris off the skin for all people. For those who have sensitive skin this may be used every two to three days.
In addition to this skin care regimen try these tips as well...
Put your mask on over clean skin

Avoid make-up or use non-comedogenic make up

Apply light moisturizer with sunscreen or hyaluronic acid to create a barrier between the skin & mask.
Hopefully, as we all get vaccinated, we won't have to wear masks too much longer but daily care and protection of our skin will keep it clear and healthy!